50 3610 with artificial NVA military train, behind exit Markersbach direction Annaberg-Buchholz
50 3610 with artificial NVA military train
50 3708 with regional train RB 15858 (->Blankenburg) Langenstein exit
50 3708 with regional train RB 15858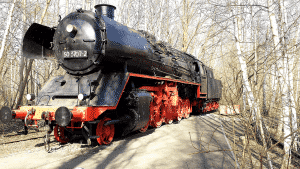 For half a century, the locomotives of the series populated as a versatile freight train locomotive the German route network. In retrospect, the 80 km / h steam locomotive DRB [amazon_textlink asin='B01MS8FD2V' text='Class 50′ template='ProductLink' store='eisenbfrbln-21′ marketplace='DE' link_id='e6da6f09-d20e-11e8-b3e4-55e640e15969′] produced with over 3000 copies can be described as the most successful German locomotive construction. The high-capacity freight locomotives procured in the standard program could only operate on main railways because of their high axle load. Therefore, in 1937, the Ministry of Transport commissioned a simply built, easy-to-handle freight locomotive with a 16 t wheelset mass. With the series succeeded the developers a big hit. The steam locomotive DRB Class 50 convinced in all areas. It was also used in passenger trains. The steam locomotive DRB Class 50 was built from 1939 to 1948 in a number of 3164. The locomotives have an output of 1186 kW, a length of 22,940 mm over buffers and a service mass of 88.1 t.
---
Manufacturer:
various
Total length:
22,940 mm
Numbering:
50 001-50 3171
with gaps
Weight:
86.9 t
Years of construction:
1939-1948
Top speed:
80 km/h
Retirement:
1987
Fuel supply:
8 t hard coal
Water supply:
26.0 m³
Number:
3164
Power:
1186 kW
Boiler
overpressure:
16 bar
Interesting facts
The freight locomotives steam locomotive BR 50 belong to the type 1'E h2. They have 1 running axle independent of the main frame, and 5 coupled axles mounted in the main frame. The steam type is superheated steam and the locomotives have 2 cylinders.

More interesting facts


Steam locomotive DBR Class 50 - The production after the beginning of the war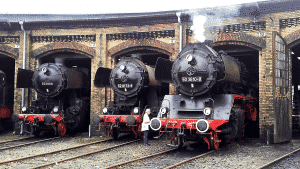 After the beginning of the war, the series was initially built, albeit gradually simplified. The production finally led to the war locomotive class 52. The 50 series has become the universal class at the end of the steam locomotive, which can also be used on secondary tracks because of the low axle load. The machines of the DRB Class 50 series were built by almost all European locomotive factories until 1943. For the tender, a protective wall was installed in reverse to protect the locomotive crew, because the machine should not travel at different speeds in both directions. This was due to the fact that many terminus stations had either no or too short turntables. At the beginning of the sixties, as part of the rationalization and modernization of transport and equipment, DB began to use train cabins in the tenders. The dimensions of locomotives and tender remained unchanged. The capacity of the coal container was reduced. The only still operational locomotive of the 50 series is still used today on the Wutachtalbahn.